25 Million USD Investments and 450 direct Jobs 25 Million USD Investments and 450 direct Jobs, PIPA discuss 16 investment projects
January 29th, PIPA's BoD no. 85 and first meeting in 2018 held in PIPA premises chaired by H.E. Abeer OUDEH,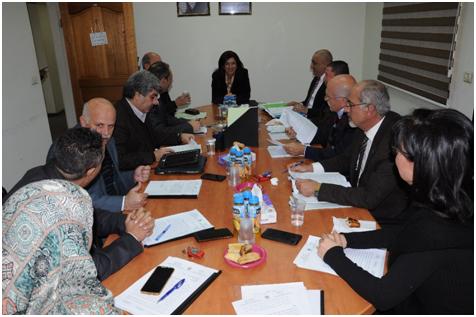 and discussed 16 new, Development Investment projects and Plans to develop exiting projects, 9 of the project granted incentives according to the Encouragement of Investment Law and its amendments, and the Incentive contract packages, approved investments accumulated 20,478,284 M USD and will generates 342 direct jobs in Industry, Tourism, Pharmaceutical and Renewable Energy sectors. And its worth to mention that according to the Renewable energy Incentive contract package 2 projects granted incentives for Net Metering and Utility Scale projects which will generate 2 MWATT in Northerngovernorates.
Projects geographic distributed in the governorate of (Jerusalem, Ramallah and ALbiereh, Hebron, Nablus, Tubas and Tulkarem) and PIPA registered 4.5 MUSD investments by Palestinian expats from KSA and Cyprus with 22% of total employment and investment approved.
Finally, PIPA's BoD reviewed the 2017 year report, the strategicframework 18-20 and 2018 action plan, and recognized PIPA efforts in year 2017 especially on policies related to Investment incentive packages for tenants in the industrial zones and generating electricity from solar energy in line with PIPA goals and the Palestinian governments plans inspired by the vision of mobilizing efforts toward increasing the location of Palestine as attractive destination to invest and do business with.