Financing a Business in Palestine
The Palestine monetary authority was able to accomplish important steps in order to achieve safety, and high banking confidence in the recent years to reach efficiency and to achieve monetary and financial stability at the regional and international level.

Firstly- Banking institutions in Palestine( local and foreign):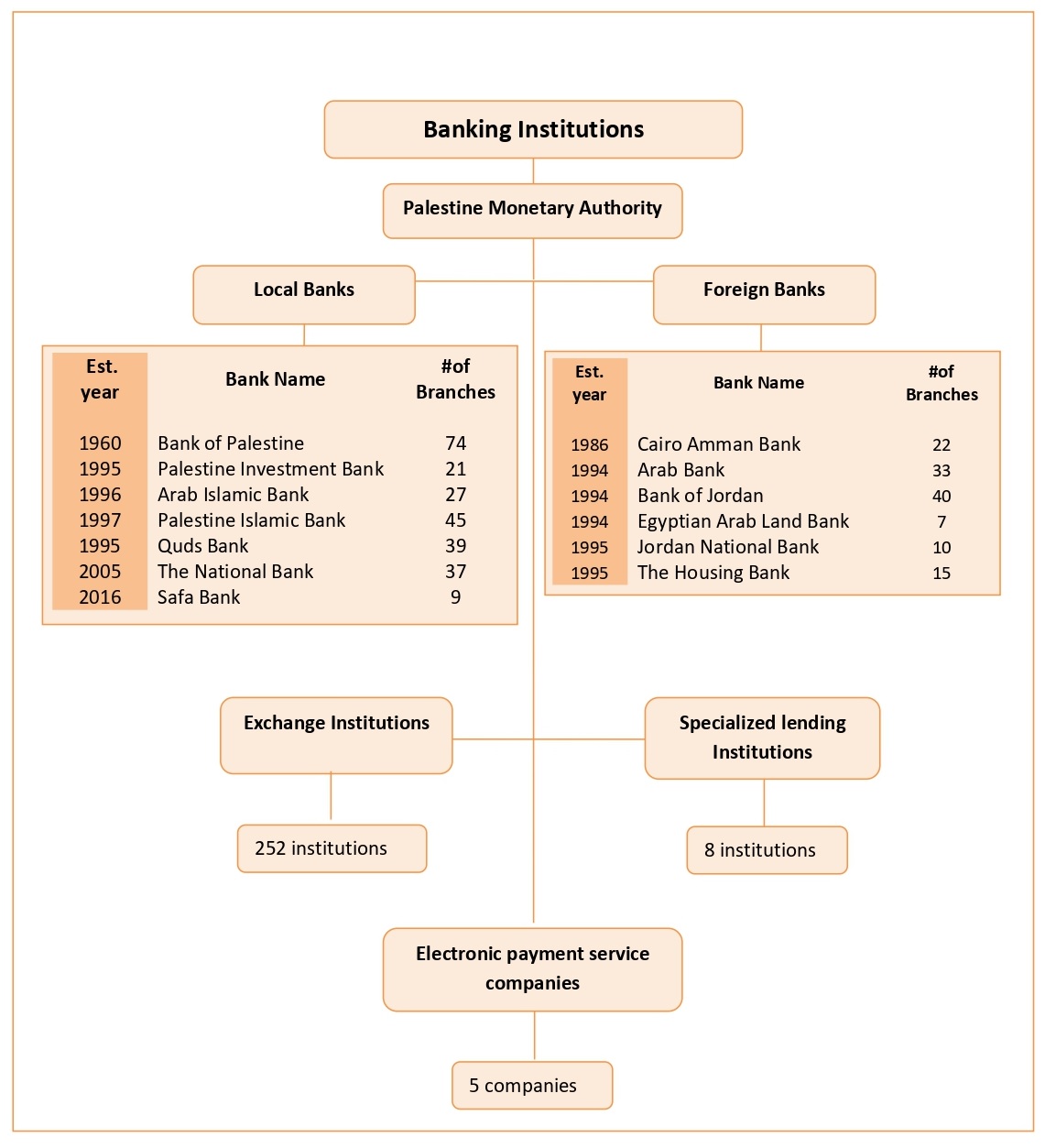 Secondly- Secondly- Non Banking Financial Institutions
Non-bank financial institutions are control and supervision of two different parties, where both specialized lending institutions and banking institutions are subject to the control and supervision of the Palestinian Monetary Authority. While leasing finance companies are supervision and control of the Palestine Capital Market Authority.
Deep reforms have been implemented on the policy of these institutions that follow the supervision of the Monetary Authority and control since 2011; this aims to maintain the safety and effectiveness of these institutions, to ensure the stability of the financial system in Palestine. During the year 2012 the Monetary Authority issued a number of instructions aimed at regulating management and governance of these institutions, licensing mechanism, and allowed and prohibited actions.
With the end of the year 2020, the number of specialized lending institutions, and members in the Palestinian Network for Small and micro-lending (partnership) are 8 institutions, operating through 96 branches and offices distributed in various areas in the northern and southern provinces.
The net credit portfolio of 249.8 million USD, distributed over different economic sectors that are naturally connected with these institutions and their goals; where in terms of Real Estate sector dominated approximately 32.7% of the loans granted, followed by the trade sector of 29.5%, Public Services sector by 11.9%, Agriculture sector 11.4%, Industrial sector 5% and Tourism sector 1.6%.
Some programs and funding institutions and lending
More than 25 lending institution within a variety of programs provide facilities through an easy and affordable packages to set up projects in Palestine, where these institutions and provided easy access to the necessary funding under flexible conditions and possibilities proportionate with the nature and the ability of the investor.
Institution Name

Telephone

Fax

Email

Website

Palestinian Businesswomen's Association (asala)

+970 2 2413036

+970 2 2413035

Reyada

+970 2 2410510

+970 2 2410592

FATEN

+970 2 2961470/1/3

+970 2 2961472

Reef Finance

+970 2 2951071

+970 2 2951073

ACAD For Finance And Development

+970 2 2960390/1/2/3

+970 2 2982741

Juhoud

+970 2 2957201

+970 2 2957366

Palestinian banking Institution

+970 2 2969800

+970 2 2969801

NGO Development Center

+970 2 2347771

+970 2 2347776

-

Palestine Investment Fund- PIF

+970 2 2969600

+970 2 2969617

French Grant Program

-

-

-

Zaytonah Islamic Financing

-

-

Tamweeli Palestine

1700 373 272

-

Palestine Ijara Company

+970 2 2979895

+970 2 2979894

Al Ebdaa

+970 2 2965991

+970 2 2965992

Vitas

+970 2 2410510

+970 2 2410592

-

Innovative Private Sector Development Project (IPSD)

-

-

Finance for Jobs (F4J)

+970 2 2964840

+970 2 2964901

-

Solve it

+970 2 2969800

-

-

Istedamah Programme

+970 2 2415251/0

+970 2 2415310

Isnad programmer

+970 2 2969801

+970 2 2969801

-

The Palestinian Fund for Employment

(PFESP)

+970 2 2984184

+970 2 2956550