PIPA Discuss Main Recommendations for the COVID19 Response Plan
Ramallah May 7th 2020, PIPA's BoD no. 99 and second meeting in 2020 held in the Ministry of National Economy, chaired by H.E. Khaled OSAILY, some of BoD members attended online through available online technologies.
PIPA BoD's discussed the available initiatives to support effected sectors and protect employment in all sectors, and the importance of ICT sector in supporting activities under all circumstances, and the effects on tourism sector and general value chain and sensitivity of the Health sector and potentials of industry and agribusiness sector and the importance of the Business opportunities in the named sectors, and a discussion on the initiatives to support SME's and Micro business inform of financial tools of technical support; in other hand the BoD's welcomed the recommendations and outputs of the survey conducted by PIPA to get Investors feedback on the pandemic challenges these recommendations harmonized with line of recommendations and international responses; the recommendation now in process of intensive follow up to finalize acts matrix to adapt and escalate to the council of ministers to adapt to be as formal response plan by PIPA to face the pandemic challenges.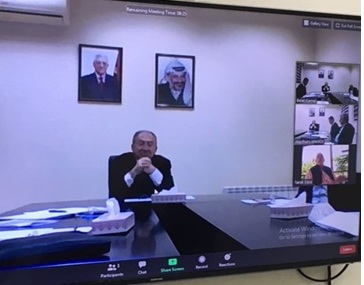 And its worth to mention that PIPA adapted line of procedure for working online for better serving clients and take healthy measures, as an online registration and follow up activated along with hotline tool to guide potential clients along with disseminating line of procedure and guidance and international best practices shared via PIPA's portal and social media.
PIPA and its BoD committed to enhance investment climate in Palestine and maintain good business regulations and procedures to enhance Palestine competiveness as investment destination and resource of goods and services.